NOVEMBER RAIN

®


The Ultimate Guns N' Roses Tribute Show.
Video - Audio - Testimonials - Press - Magazine Articles
Hit Stop on the Music Player Below and Hit Play on the Video!
Promo Video
Sweet Child O' Mine - By November Rain at The Crazy Donkey
It's So Easy - By November Rain at The Crazy Donkey
November Rain - By November Rain at Penn's Peak
Night Train - By November Rain at Penn's Peak
Don't Cry - By November Rain at Penn's Peak
Mr. Brownstone - By November Rain at Penn's Peak
0:00/2:30

0:00/1:46

0:00/4:46

0:00/1:01

0:00/1:00

0:00/1:00

0:00/0:59

0:00/1:00

0:00/8:48

0:00/6:36

0:00/3:01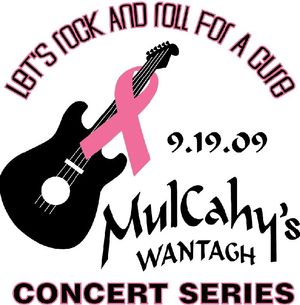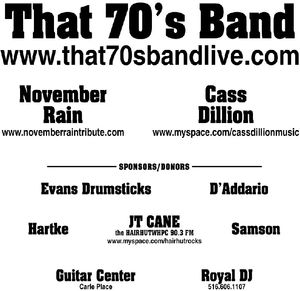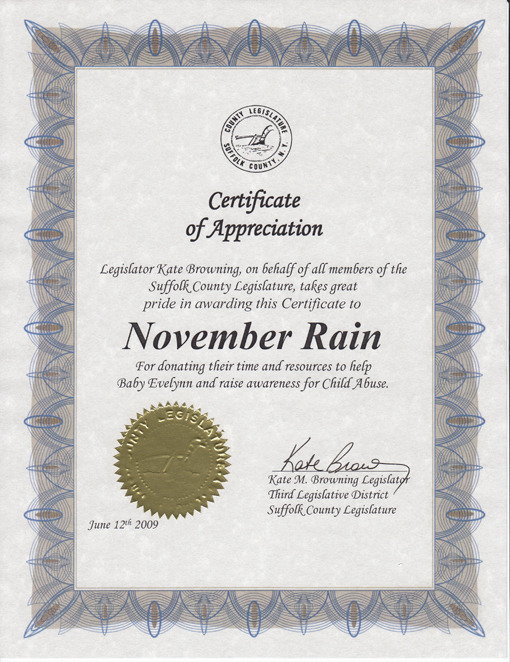 Anthony Biondo
42 Fox Court
Holbrook , NY 11741
June 29th, 2008
To Whom It May Concern,
Please accept this Letter of Recommendation for November Rain- The Ultimate Guns and Roses show. My Granddaughter Evelynn Biondo was brutally beaten and shaken at the hands of her father. Baby Evelynn survived despite doctors predictions. However suffers from many neurological disorders including blindness and low muscle tone. Since Evelynn's hospital stays, we have made it our mission to do what we can to erase the child abuse and shaken baby syndrome epidemic that has made Long Island ranked number 1 for child abuse and neglect cases in the entire country. Three ways we believe this epidemic can be brought under control is through Education, Awareness and Tougher Laws. This is where our efforts lie. In an effort to raise awareness we organized Long islands largest Child Abuse Awareness event ever. We gathered an all star line up of 7 bands from as far away as Boston Massachusetts. Most of them come from right here on Long Island. Many, many people congratulated us on putting on such a fine show. I am still getting emails a week later. Everyone loved all the bands. Perhaps our most loved band was November Rain. November Rain left over 400 people in a buzz about how great they were and how much they looked and sounded like the real Gun's N' Roses band. We were all VERY Impressed. We quickly jumped at the opportunity to confirm November Rain again for "Evelynntopia 2009". Everyone, young and old gathered around the stage for this outstanding band. I knew this band had to be good when I met a couple from Pennsylvania who traveled all the way to central Long Island, just to see November Rain. But WOW, was I impressed!
I hope this letter helps you get a clear picture on just how great November Rain truly is. There is no doubt they Special.
Kindest Regards,
Anthony Biondo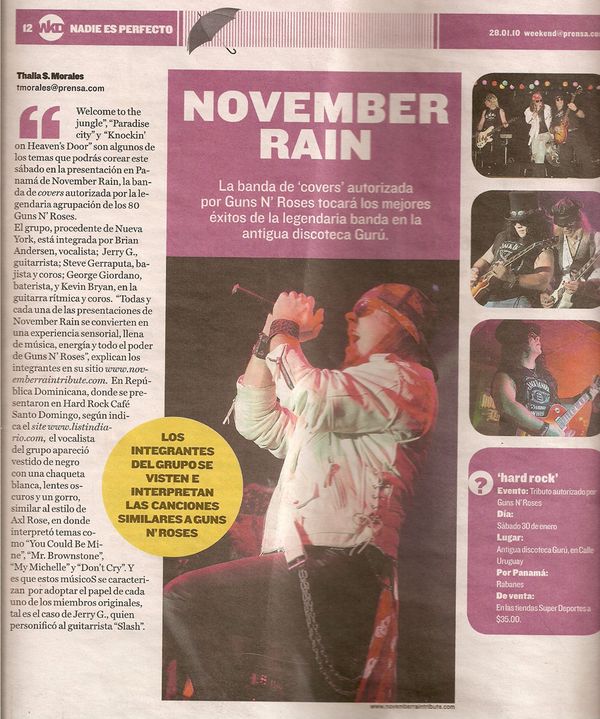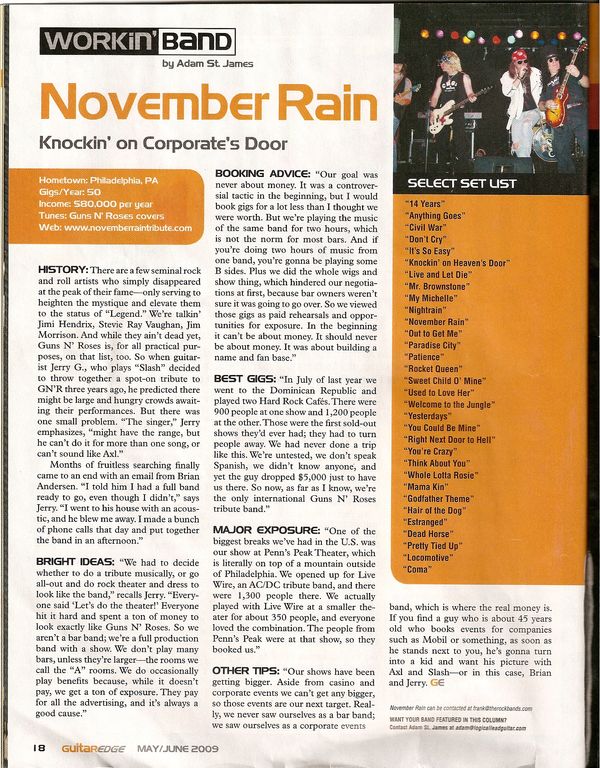 ****************************************************************************************
Impose Magazine - December, 2008
www.imposemagazine.com/guns-n-roses-chinese-democracy-geffen/10338/
By Alex Nathanson

I hadn't planned to review the new Guns N' Roses album for the simple reason that it never mattered whether Chinese Democracy would be good or not, because it was always about the experience, the hype, and the free Dr. Pepper. The decision was something to be put off and I was just going to pretend it was awesome until the shock wore off, because what if it wasn't?

To help everyone who hasn't spent the last week adjusting to a changed world, I present The Five Stages of Chinese Democracy.
01 Denial
17 years and $13 million later, there's a new Guns N' Roses album? I'll believe it when I hear it for the hundredth time on the radio.
02 Anger
17 years and $13 million and we get this!? Come on!
03 Bargaining
Ok, at least bring Bucket Head back. I mean who is Bumblefoot anyway?
04 Depression
What happened to the 80s? (It never really comes back unless Axl Rose brings it back.)
05 Acceptance
The album doesn't suck. Even though I never would have bought it if it wasn't GNR, I'll got as far to say its not bad, and it does free up time obsessing over its release for eagerly awaiting the next big Guns N' Roses moment, most likely whenever Axl dies and we get to hear what he's got in the archives (over a decades worth of under-produced, good, old fashion rock and roll, right?!).
Of course, the album has its moments, some of which are even reminiscent of Guns N' Roses Past, like Axl's trademark piano and wails. Still, taken as a whole, the album is a sad departure from their classic past. It sounds as one would expect an album that took over a decade and a ridiculous sum of money to create would, over produced and an occasionally not so seamless mix of subgenres. The Guns N' Roses that made Chinese Democracy isn't the Guns N' Roses we know and love and there wont be any riots when Axl & Co. go on tour.
As Jerry, "Slash" from the GNR tribute band November Rain, put it, "Guns N Roses died before their time and when they died it kind of left a vacuum and even though Axl is touring with other bands that aren't Guns N' Roses original members, they can play anywhere and basically sell out the place because they're basically gonna go hear the catalogue and go see Axl sing." So thank the early death of GNR for the growing popularity of tribute bands like November Rain.
November Rain has played a wide range of venues, from bars to corporate events to selling out The Hard Rock Cafe in Santo Domingo (which they proudly state ran out of Vodka mid-set) and through it all they've played the same GNR songs. I had the pleasure of hanging out with NR (since a sesh with GNR died with that fateful dive in St. Louis.
I'd suggest you take a break from listening to the new tracks (or crying about the money you lost in whatever, "Chinese Democracy will never come out," bet you made) because this might be a little more familiar…

For General Information about November Rain you can e-mail us.

Copyright © 2006-2015. All rights reserved.
"NOVEMBER RAIN"® and the "NOVEMBER RAIN®" logo (Skull/top hat and pistols) are registered service marks/trademarks of NOVEMBER RAIN®. NOVEMBER RAIN® does not permit or consent to any use of its service marks/trademarks in any manner. Any use is a violation of trademark law and will be strictly enforced.